It is almost the twenty-third anniversary of Nigeria's democracy, and the general elections in 2023 are in the headlines. Nearly eight years ago, Nigerians elected President Buhari of the All Progressive Congress (APC) to tackle corruption, fix the economy, and curtail the reign of terrorist gangs in the northeast. Buhari's election was a protest vote against the People's Democratic Party (PDP), the then-ruling party, for squandering an enormous oil windfall and boasting it was unstoppable from ruling Nigeria for 60 years. But Buhari has failed in all three promises.
Nigeria's naira worsened from about N199 to the dollar in 2015 to N760 in today's parallel market. The then-candidate Buhari had declared oil subsidy spending an organized fraud by the PDP government. But eight years on, subsidy spending has more than quadrupled under his watch as President and petroleum minister. From N316.bn in 2015 to N1.43 trillion in 2021. A staggering N6.7 trillion naira (about$15bllon), or one-third of the 2023 budget, is allocated to subsidy spending, the highest ever! There has been a limited gain in anti-corruption, and insurgency remains a significant threat. Today, insecurity is widespread, resulting in military deployment to Nigeria's 36 states and the federal capital, Abuja, for the first time in its history.
The problem with Nigeria is leadership, Chinua Achebe, the late literary icon, once quipped. Leadership should therefore be the number one item on the ballot as Nigerians go to the polls next year.
The stakes have never been higher for a President with character and integrity to fix Nigeria and slow the descent into a full-blown crisis. Nigeria has made commendable progress toward modernizing its laws since 1999. But the lack of visionary, committed leadership has made nonsense of its vast human and natural resource endowment and the rule of law. Today, it is the source of institutionalized impunity and lack of accountability.
Without installing a president with integrity and character strength, Nigeria has little chance of defeating the vested, powerful interests holding the country down. Moreover, it has yet to come out of the hole it finds itself in courtesy of the chain of bad governance, poor policy decisions, and missed opportunities over the last twenty-two years.
The Obidients are a group of Nigerians championing a new Nigeria who sees Mr. Peter Obi as a credible vehicle. In seven months since Mr. Obi adopted the little-known labor party, the Obidients have garnered momentum never witnessed in Nigeria's politics for a little-known candidate and party. The meteoric rise in popularity and acceptance of Mr. Obi in just seven months seems like a tale from the children's cartoon. But it is real. Several independent polls put Mr. Obi ahead of two other top contenders, Bola Ahmed Tinubu of the ruling APC and Alhaji Atiku Abubakar of the PDP.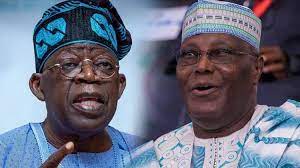 Mr. Tinubu is a former two-term Lagos state governor whose birth, age, name, education, and career have been the subject of controversies. In addition, questions about his health status and wealth source have never been answered. Instead, convoluted explanations from Mr. Tinubu and his supporters have fueled more questions.
Alhaj Atiku Abubakar, is a former vice president to President Obasanjo. He is a serial runner, having previously lost four presidential attempts to the late former President, Umaru Yar'Adua, in 2007, Jonathan in 2011, and Buhari in 2015 and 2019. Today, Alhaj Atiku bears the burden of the 16 years of PDP rule, which Nigerians still remember.
For both Tinubu and Atiku, the 2023 elections is probably their last chance, which increases the stakes for both.
Power is back on the streets, says Femi Falana, Nigeria's respected human rights activist and senior advocate. State governors, on the hand, boast of being the custodians of "peoples' power" given the enormous resources they control and their stranglehold over local government administration. Mr. Obi and his supporters hope to burst this myth and prove that the people are the real structures.
The Obidients are confident that their candidate will win if the elections are free and fair. Fifteen years ago, this would have been a lofty dream. But a free, fair, and transparent election is plausible in today's Nigeria, courtesy of the convergence of several critical factors. A reform-minded, open, and partnership-oriented electoral umpire- the independent national electoral commission (INEC). A cleansed voter register and a registration process that allows INEC to fish out and delete fraudulent and multiple registrants. Perhaps much more reassuring is the introduction of a series of innovative ideas and significant deployment of technology into the electoral process – improved electoral law, voter verification, authentication technology, and results transmission and verification technology. Finally, an exasperated youth population is hungry to retire Nigeria's web of self-serving and corruptly extractive political class and godfathers who have historically used state resources and instruments of coercion to determine election outcomes.
But nothing is more important than the massive education, sensitization, volunteering, and mobilization by the Obidient movement. For the first time, ordinary Nigerians put their money, time, resources, influence, and mouth where it matters. They are bent on proving that citizens are the critical structure for voter mobilization. They are eager to rewrite the narratives of the politics of electoral victory.
A victory for Obi would confirm Mr. Falana's declaration that power is back on the streets and no longer in the governor's government houses.
It would threaten the myth about the power of money in political mobilization in Nigeria. Both Atiku and Tinubu pack a deep pocket to prosecute the elections. For example, a bullion van entered the latter's residence during the 2019 elections. There has been no investigation into this since then. Similar experiences reared their heads during party primaries by leading political parties in 2022. Delegates of the APC and PDP were alleged to have received between $10,000 to $35,000 from the frontline aspirants. This is in addition to payment for the expression of interest and application form for the party's presidential ticket—the application form and expression of interest costs Tinubu and Atiku N100 million and N40 million, respectively. Both are ready to open the vaults to land the presidency.
Nigerians may have a chance to rest the over-confident ruling APC and the main opposition, PDP, once and for all. But those calling for a new Nigeria must show up. They must collect their permanent voter cards and turn up at the polling units. Youths represent the largest segment of the Obidents. And they can deliver Mr. Obi to the 'Aso villa" come 2023 as the largest voting bloc.
The rising fortune of Mr. Obi and the labor party is reaching worrying heights for APC, PDP, and their supporters. Yet, both parties will not fold their hands and watch a political tsunami befall them. So, whether this voyage to oust the kleptocratic ruling class succeeds is yet to be seen. But one thing is for sure, Nigerians cannot afford to be despondent or too much in a hurry.
This means the new thirst for a trusted, credible, courageous leader sympathetic to the course of ordinary Nigerians must be sustained beyond 2023, no matter what happens. Suppose the hunger for change dies with the 2023 elections. In that case, Nigerians championing change are no different from the jaundiced political class that has shown a lack of capability to envision beyond a four-year cycle and consequently has been unable to provide the much-needed leadership to address the existential questions facing Nigeria. But whichever way the pendulum swings, Nigerians and Africans may be at the cusp of a new lesson on the power of voters.
Dayo Olaide is a social development analyst