Five years ago, I cast my first vote in my country's election. A few months prior to the March 2018 elections in Sierra Leone, I wrote an article about how the National Grand Coalition (NGC) could offer a viable third option for Sierra Leoneans who did not wish to vote for the two main political parties, the Sierra Leone People's Party and the All Peoples Congress.
Here's an excerpt:
"The National Grand Coalition, led by Kandeh Kolleh Yumkella (KKY), has presented itself not only as a force for change, but for many young Sierra Leoneans, a platform for defiance to the two long-standing parties, as well as hope that under a coalition umbrella, ethnic and traditional party lines will be blurred and overridden.
Yumkella has positioned himself as a viable third option for the presidency among young Sierra Leoneans who are hungry for a formidable non-SLPP and non-APC alternative. It appears that even if the NGC does not win the March 2018 elections, the party will split votes on both sides, and supporters will remain loyal to the KKY movement-a political brainchild of Yumkella's, preaching a new dawn of hope for socio-political and socio-economic change in Sierra Leone."
In April this year, Kandeh Kolleh Yumkella announced that NGC had signed an agreement with the ruling party SLPP to form a "progressive alliance."
Six years ago, when the National Grand Coalition (NGC) emerged on the political scene, I was eager to believe they were a viable political alternative. Having been born at the start of the civil war, I grew up in a Sierra Leone, that had been left in ruins. I witnessed enough to believe that the two main political parties, the Sierra Leone People's Party (SLPP) and the All Peoples Congress (APC), lacked what it would take to move Sierra Leone towards long-term progress. The SLPP's years of economic mismanagement after the war resulted in a sweeping victory for the APC in the 2008 elections. I recall how Sierra Leoneans took to the streets, hopeful that corruption would be eradicated and we would finally move toward prosperity and progress. However, towards the end of President Ernest Bai Koroma's second term, the APC became increasingly unpopular, particularly among centrist voters. The SLPP became a formidable opposition, and the elections went into a run-off. During that period, the NGC emerged to fill a void for young Sierra Leonean voters who did not feel a strong sense of loyalty to either the APC or the SLPP. For many of us, the NGC represented a breath of fresh air and a possibility of hope.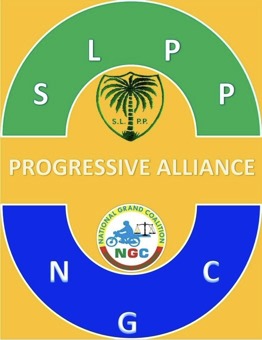 When the APC party lost the elections in 2018, it was a sign that even some of their long-time supporters wanted to change. Some ex-supporters voted for NGC in the first round of the elections, knowing that although NGC would not win, a vote for another party would mean that APC would be out.
Unfortunately, the current government led by SLPP seems to mirror the problems that led to APC's unpopularity. As the June elections approach, the complaints are pretty much the same as they were five years ago. For years, the country has struggled with a weak national electrical grid, a struggling healthcare system, and a lack of opportunities for marginalized youth. While there have been some strides in the SLPP government, such as the passing of the Gender Equality and Women's Empowerment Act (GEWE) which the government says will "address the gender imbalances in this country comprehensively," the current leadership still seems disconnected with the realities of everyday Sierra Leoneans.
Furthermore, the government's actions often contradict the policies they claim benefit Sierra Leoneans. Outcries from activists are met with arbitrary arrests, such as the detention of Unity Party leader Femi Claudius Cole. Last year, 21 people were reportedly killed during protests against the dire economic situation in the country. Two years before this, in 2020, four people were killed when police and soldiers opened fire on protesters in northern Sierra Leone. There have also been other cases of injustice, including the indefinite suspension of the Auditor-General, Lara Taylor -Pearce.
When NGC won five parliamentary seats and little under 7% of the votes in the first round of the 2018 elections, this catapulted Yumkella as a leading force in national politics. It positioned the party as a movement for voters who were tired of APC and SLPP. Yumkella's mantra has consistently been "Salone Fos," putting Sierra Leone's interest ahead of tribal or regional affiliation. So, in the formation of this "progressive alliance," the "Put Salone Fos" mantra seems like a partnership meant to unite everyone across political differences for Sierra Leone's interest and propel us forward.
However, Yumkella's message to centrist voters and NGC supporters is still unclear as to whether he will commit to asking the hard questions to seek answers that Sierra Leoneans need, whether his voice will be diluted under this coalition, and whether he will hold the country's leadership accountable- a promise he had made to supporters after the 2018 elections.
When Peter Obi led a movement for a "New Nigeria" and rocked the recent elections in Africa's largest economy, many asked whether such a movement could be possible in Sierra Leone, with NGC potentially leading it. With Yumkella's announcement, it doesn't seem so.
Two weeks ago, Sierra Leonean businesswoman Zainab Sherriff shared a video expressing her grievances against the government. She also echoed sentiments similar to many Sierra Leoneans who believe that both leading political parties have failed the country. Unfortunately, those who attempt to critique the country's leadership honestly are often labeled as "the opposition" or "anti-government." This deep mistrust of people who do not align with either party deprives us of alternative perspectives and visions for our country, which could help us build collective and inclusive realities that cut across regional, class, and ethnic lines. Yumkella's announcement has forced non-partisan Sierra Leoneans into a dilemma and possible voter apathy.
With the June elections fast approaching, the question is, can we dare to hope? Can we continue searching for a third option that will bring us closer to these realities?
Ngozi Cole is a writer and journalist covering social issues. She has is a 2022 Pulitzer Center Reporting fellow and a graduate of Columbia Journalism School.